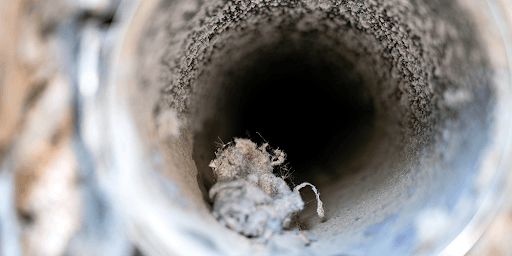 Achoo! Is it fall allergies or your air ducts? Just because you can't see the inside of your air ducts doesn't mean they are maintenance-free. Dirt, debris, dust, and allergens can gather and settle in your air ducts. Over time, they build up and can make the air in your home less than ideal. If you're having trouble breathing in your own home, you may be wondering whether your air ducts need to be cleaned. The professional technicians at Gibson Heating and Cooling share the signs that your air ducts need to be cleaned.
Signs You Have Dirty Air Ducts
The following are signs your air ducts need to be cleaned:
Dust
Dust is the most tell-tale sign of dirty ducts. Open up air register vents and air filters. If they are filled with debris, dirt, or matted dust, that's a good sign that your air ducts are coated with dust. Check out your air filter and HVAC system to see how dusty they are as well. This buildup of dust slows the flow of air throughout the house, causing your furnace to work ineffectively. It can also compromise your home's indoor air quality.
Mold
Dirty ducts can lead to an imbalance of moisture, which can result in mold growth. This can be dangerous to you and your family's health, as mold spores can make their way into your home's living areas. If you notice mold growth, contact Gibson for professional air duct cleaning.
Rodents or Insects
Your ducts are in the walls and attic of your house. It's not uncommon for rodents and insects to find their way in through cracks. They make nests and leave droppings that send fecal spores through the ducts and into your living areas. If you see droppings or smell unpleasant odors in your home, you may have an infestation. An air duct cleaning can remove these pests. 
Stuffy and Unevenly Heated or Cooled Rooms
Is there one room in your house that seems hotter than all of the other rooms? It might have no airflow from clogged vents which makes it feel stuffy. An air vent cleaning can help the room feel comfortable again. 
Rising Energy Costs
If you dread turning on your heating and cooling system because of the high bills that come with it, having your air vents cleaned could be the answer to your problems. When air can move freely through your vents, your heating and cooling system works efficiently and your energy costs go down. 
When Should You Have Your Ducts Cleaned
Your air ducts should be cleaned every 3-5 years. However, some factors may lead you to clean your vents more frequently.
Major Renovation
Dust and debris always seem to find a way into our air ducts and vents. Chemicals can contain some harsh particles that you and your family don't want to breathe in. To avoid respiratory issues, it's a good idea to have your ducts cleaned after a major renovation.
Moving Into a New Home
Breathe easy with a fresh start in a new home with an air duct cleaning. Do you know if the people who lived in the house before you were healthy? Remove the previous owner's old germs, dust, and allergens by having your air ducts cleaned before you move in. 
Severe Allergies
If you have severe allergies, having your air ducts cleaned frequently can help remove allergens like dust, pet dander, chemicals, and other indoor air pollutants from your vents. Having your air ducts cleaned frequently is a good idea, especially if you have pets or are a smoker.
Schedule Your Air Duct Cleaning with Gibson Heating & Cooling Today
If you notice the common signs that your air ducts need cleaning, call Gibson Heating & Cooling right away to schedule your air duct cleaning.