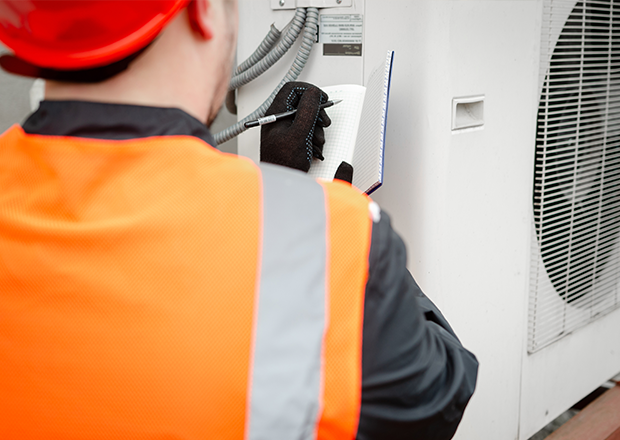 Heat pumps are very reliable, but they can break like any other type of heating or cooling appliance. Gibson Heating & Cooling offers a full range of heat pump services that are there when you need them.
The best way to avoid paying for expensive heat pump repairs is by maintaining your heat pump system twice per year. Then, if your heat pump needs repairs, we can help, even in the middle of the night. Call us to schedule a regular maintenance or repair service; we are available 24/7.
Signs Your Heat Pump Needs to Be Repaired
Due to their overall reliability, it is not often that heat pumps will suddenly break. However, some clues usually occur before a heat pump breaks down. Those include:
High energy bills
A spike in your energy bill could be a sign that your heat pump system needs maintenance. However, heat pumps are very energy efficient, so it is critical to call for maintenance when they start using more energy. Sometimes a maintenance service call can catch issues before requiring more extensive parts replacement.
Frozen coils
It is common for ice to form in heat pumps, as that is part of the unit's process to create cold air. However, ice that lingers is a problem, especially in winter. If the coils are frozen, the unit will not produce hot air. Frozen coils can be a sign of a small coolant leak. Call for repair services, even if you are without heat in the middle of the night.
No heat
The heat pump is running but not producing heat. This is because heat pumps compress coolant to produce heat. If the heating pump cannot compress the coolant, it will not produce heat.
Short cycling
Short cycling occurs when the heat pump turns on for a few minutes and then off and repeats that process. The problem may be a faulty thermostat or an electrical connection in the heat pump unit.
Strange odors or noises
Heat pumps are very efficient and often very quiet. However, call for maintenance if you start to hear odd noises from the heat pump system. If you smell odors from the heat pump, several issues could be at play. One common issue is that drain plugs are clogged, and condensation has pooled in the bottom of the unit. That situation can also cause mold to grow in the unit.
Gibson Heating and Cooling has heat pump technicians available 24/7, so you can call us after hours if your heat pump requires repair. We want your home or business to be warm and your family not to suffer without heat.

Should I Repair or Replace My Heat Pump?
What is the cut-off point for repairing your heat pump over replacing it? The answer to that question is a variable that applies to different heat pump situations. Here are some things that point to repairing rather than replacing your heat pump.
It's under 10 years
Heat pumps can last for up to 15 years. So if your heat pump is under 10 years old, it is probably better to repair it than replace it. Hopefully, a unit that's less than 10 years old has a lot of life left in it.
Few past repairs
It is common to expect a few repairs over the life of a heat pump system, primarily if the unit is not maintained regularly. If your heat pump system does not require frequent repairs, it is probably a good idea to repair the problem rather than replace the unit.
The repair is minor
Small repairs are always more affordable than the higher cost of replacing a heat pump system. If the repair is inexpensive, have the unit repaired rather than going through the hassle of replacing the old unit with a new one.
There's still a warranty on the system
If the repairs are covered by a warranty, repair the unit. If there is no warranty on the unit, you can weigh the options of repairing it over replacing it.
Maintenance for Your Heat Pump System
Heat pump systems require maintenance twice per year. It is essential to maintain a heat pump because it is used for heating and cooling.
Maintenance for heat pumps means that the unit will produce heat or cool your home at its peak efficiency. That process also uses less fuel, saving you money each month on your heating and cooling bills. Maintenance also helps to catch minor issues before they become more significant problems. A good example is when your maintenance technician spots and fixes a small coolant leak before starting the unit up in the fall.
Contact Gibson for Heat Pump Repair Services
Gibson Heating & Cooling is available around the clock to help with service or repairs for heat pump systems. As part of our commitment to keeping families warm, you can call us 24/7 so you never have to wait for the office to open. We offer professional heating and cooling technicians who will happily maintain, repair, or replace your heat pump system at any hour of the day or night.
AC Service, Air Conditioner Repair & HVAC System Replacement

Cynthiana, KY, Georgetown, KY & Paris, KY
AC Service & Heating Service in Frankfort, KY
A/C Maintenance

∴

AC Service

∴

HVAC Installation