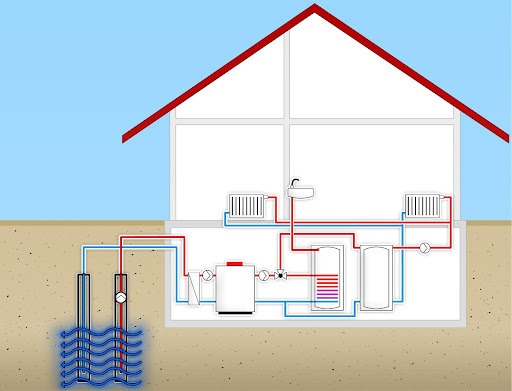 Geothermal heat pumps are an energy-efficient heating and cooling system that is very environmentally friendly. In fact, these HVAC systems can often provide savings of up to 50% on heating costs and 30% on cooling costs.
Keep reading to learn more about the benefits of having a geothermal HVAC system installed in your home. For all of your heating and cooling needs, including the installation of a ground-source heat pump, don't hesitate to reach out to Gibson Heating & Cooling today.
What is a Geothermal Heat Pump?
A geothermal heat pump uses the ground as its heating or cooling source. Although many parts of the Earth experience extreme temperatures, the temperature below the Earth's surface remains at a relatively consistent temperature. This temperature can be anywhere between 45°-75°F.
Geothermal systems are the most energy-efficient way to heat and cool your home. The system life is estimated to be 24 years for inside components and 50+ years for the ground coils. 
How Do Geothermal Heat Pumps Work?
In order to understand how geothermal heat pumps work, you need to understand that it will take a lot of equipment and excavating to have one installed. Heat pumps work by using a mesh of interconnected pipes as heat exchangers that are placed underground. These coils can be laid in a variety of ways depending on how deep they need to reach the earth and the geography around the system.
Geothermal heat pumps work by using a network of pipes that have refrigerant within the coils. In the winter, these coils absorb the heat from the ground and transfer it into the building. In the summer, although it may be hot, the temperature below the surface stays constant. The heat pump brings the cooler temperatures into the house and cools it with refrigerant if needed. 
Heat pumps can be laid shallowly in the ground in a system of horizontal or slinky loops. Some geothermal heat pumps have their pipes inserted deep into the ground called vertical loops. This hole can be drilled up to 400 feet deep. 
How Do Geothermal Heat Pumps Save on Energy?
Since geothermal heat pumps pull energy from the earth, you no longer need to rely on electricity or natural gas to heat your home. Customers have noticed that implementing these systems saves them anywhere from 20%-60% on utility bills. Because you're not using fossil fuels to heat or cool your home, you'll be doing good for the environment by having a geothermal heat pump installed. Ground-source heat pumps can be over 400 percent efficient. This means they can convert one unit of electricity to four or more equivalent units of heating or cooling to your property.
Many people are concerned with the upfront costs of having a geothermal heat pump installed. However, most customers notice a payback period of 6-7 years after their initial investment. 
Call Gibson Today to Learn More About Geothermal Heat Pump Installation
Northern Kentucky is a perfect area to have a geothermal heat pump installed. With a consistent temperature on Earth, you'll never have to worry about being too cold in the winter, or too hot in the summer. Geothermal heat pumps rely on the Earth to keep you feeling just right.
To learn more about geothermal heating and cooling systems and the energy savings you can expect, call Gibson Heating and Cooling today. Our energy experts can help you find the best system to fit your needs.