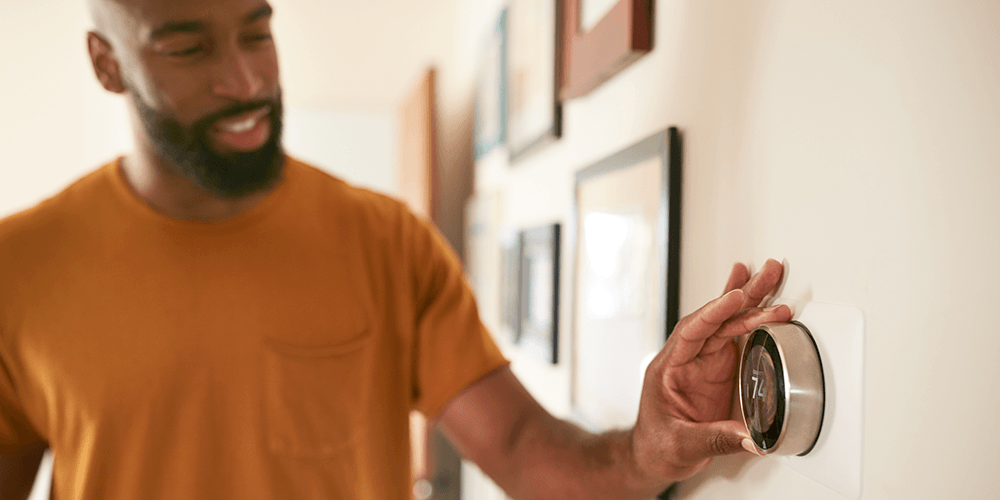 It's easy to understand why the location of a furnace or air conditioner matters inside a home – the equipment is large and takes up space, it makes noise as it runs, and more. While placement location of the HVAC system is important, one related element is commonly overlooked – the placement of your thermostat. Where your thermostat is located matters quite a bit, so make sure you know the best place to put a thermostat in a house.
The Best Place to Install a Thermostat in a Home
Choosing the best place to install a thermostat involves looking for a space in a home that meets a list of specific parameters. The location within your home will have these qualities:
On an interior wall

Near the home's center

Not exposed to direct sunlight

Not in proximity to HVAC supply or return duct vents

Away from windows or doors

Not in the kitchen or near it

Not in the hallway
As you can see from this list, the best place to install a thermostat varies from one home to the next. Any ideal location for thermostat installation will be on an interior wall toward the home's center, within a room that is often used by the household. 
Why Is Proper Thermostat Placement Such a Big Deal?
Ideal thermostat placement is directly tied to accurate performance of the thermostat and communication with your home's heating and cooling system. We choose ideal installation spots to give households the best opportunities to achieve desired comfort levels with the new thermostat.
Most criteria involve keeping the thermostat away from potential heat sources or exposure to cold outdoor air. Locations on

exterior walls

or areas toward the outer ends of the home are more likely to be affected by outdoor temperatures due to lack of insulation. In the path of a supply or return air vent will put the thermostat in the route of heated and cooled air or stale air exiting the space, which won't make for accurate temperature readings of the area's conditions. Locating the thermostat away from the kitchen as well as windows and doors stops cooking heat along with outdoor air from impacting indoor temperature readings.

The thermostat should be placed in an area that is frequented by the family because accurate comfort control in these rooms is a must! Installing a thermostat in a rarely used room, such as a guest room, can result in inaccurate air temperature readings. These rooms don't receive much foot traffic or body heat from family members, so they are typically cooler than other areas of your home.
Thermostat Installation in Georgetown, KY
If you need to have a new programmable or smart thermostat installed or you've just discovered your existing unit is not in a good spot, Gibson Heating & Cooling can help you out. Contact our team today and set an appointment for thermostat installation services.